Atlanta Sales Recruiters
Recruiting Atlanta's Best Sales Talent
ATLANTA SALES SEARCH FIRM WITH VETERAN SALES LEADERS AS SALES HEADHUNTERS
As former sales leaders and top Atlanta sales recruiters, we have the sales leadership and recruiting experience to help you hire Atlanta's best sales talent.
Your Top Sales Recruiters in Atlanta
If you're looking for Atlanta sales recruiters to hire top sales talent in Atlanta, you need a recruiting partner that understands the unique challenges of the local market. Atlanta is a bustling metropolitan area with a diverse business landscape, growing population, and a competitive tech environment. Finding the right sales talent requires a deep understanding of the local business environment, as well as access to a broad pool of qualified candidates.
At Sales Talent Command, we specialize in finding and placing top sales talent in the Atlanta area. Our team of veteran sales leaders has a deep understanding of the local business landscape, and we use our extensive networks and expertise to identify and attract the best sales candidates for our clients.
Veteran Sales Leaders
At Sales Talent Command, our team of Atlanta sales recruiters is led by a 6x executive sales leader. We are uncompromising when it comes to our standards for our recruiters, and we only hire individuals who have led a sales team or organization for at least three years. This ensures that our recruiters have the experience and expertise to truly understand the costs of a bad hire and to identify the best sales talent for our clients.
TARGET TOP-TIER
Don't settle for low-quality applicants from job posts. Instead, access the elusive top-tier passive sales talent not applying to your jobs.
IDEAL Candidate OUTREACH
Instead of reposting your job ads like other firms, you get an extensive seven-point multi-channel outreach to ideal candidates.
TOP TALENT FAST
By limiting the job recs our recruiters simultaneously work, we deliver top-tier talent quicker than most firms or in-house teams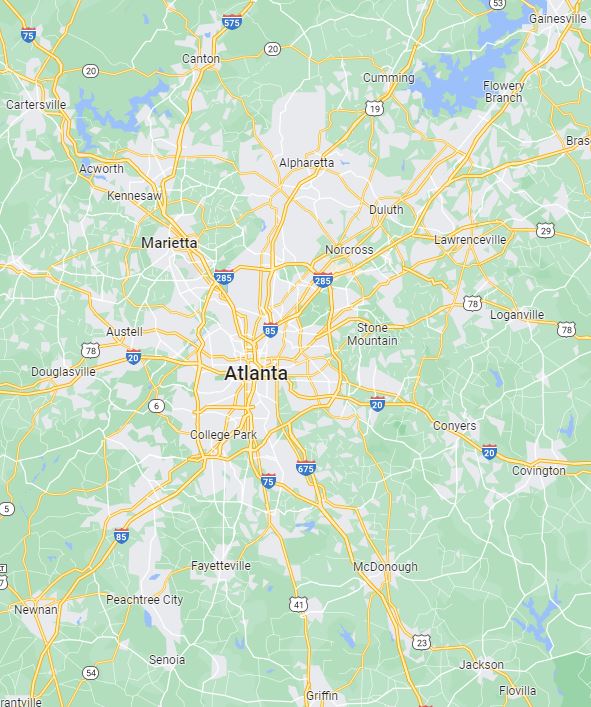 Atlanta Business Landscape
Atlanta is a major business hub with a diverse economy that includes a mix of Fortune 500 companies, startups, and small businesses. The city has a population of over 5.9 million people and is one of the fastest-growing metropolitan areas in the United States.
The city is home to several major employers, including The Coca-Cola Company, Delta Air Lines, and UPS. The technology sector is also rapidly growing, with companies such as NCR Corporation, Honeywell, and Microsoft having a significant presence in the area.
Atlanta is a thriving tech hub, with a growing number of startups and established tech companies. According to the Technology Association of Georgia, there are over 17,000 technology companies in the state, employing over 320,000 people. The city has a strong talent pool of tech professionals, including software engineers, data scientists, and UX designers.
Some of the top tech companies in Atlanta include NCR, a global software and services company, and SecureWorks, a cybersecurity company. Atlanta is also home to several successful tech startups, including Calendly, a scheduling software company, and SalesLoft, a sales engagement platform.
Atlanta Stats
According to Zillow, the median rent in Atlanta is $1,600 per month, while the median home value is $312,000. The median class-A office space in Atlanta costs around $31 per square foot.
Conclusion
At Sales Talent Command, we understand the challenges of finding and hiring top sales talent in the Atlanta market. Our team of veteran sales leaders has the experience and expertise to identify and attract the best candidates for our clients, and our rigorous recruitment process ensures that we deliver results. If you're looking to hire top sales talent in Atlanta, contact us today to learn how our Atlanta sales recruiters can help you find the right candidates for your team.
Common B2B Sales Roles We Place in Atlanta
Inside Sales / Other
Sales Development Rep (SDR)
Business Development Rep (BDR)
Inside Account Manager
Inside Account Executive
Inside Sales Representative
Inside Channel Sales
Sales Engineer
Sales Operations
Sales Leadership
Chief Revenue Officer (CRO)
Chief Sales Officer (CSO)
EVP / SVP / VP of Sales
Director of Sales / Sales Manager
VP / Director of Inside Sales
VP / Director of Sales Development
Director of Business Development
SDR / BDR Manager
Field / Outside Sales
Enterprise Account Executive
Business Development Executive
Channel / Partnerships Rep
Key / Strategic Account Manager
Territory / Account Manager
Strategic Account Executive
Regional Sales Executive
Sales Rep / Account Executive
As sales recruiters, our mission is to learn about your ideal hire, then find and recruit them.
Transform Sales Hiring and Gain an Unfair Advantage
If you are a sales leader struggling to hire high-quality salespeople, grab our free guide by our CEO, Mike Basso. Mike will teach you the secrets to attracting high-performing passive sales talent in his latest free guide.